It's now an open secret that filmmaker Jia Zhangke, once an outcast, has a special relation with the Shanghai Film Group, which begins with his much acclaimed Venice winner Still Life (三峡好人, 2006). Due to this special relation, it is no wonder that he attends SIFF almost every year and participates actively in a variety of festival events. This year is no exception. He is literally everywhere, from film forum to press conference, and from promotional parties to private gatherings. Although he does not have a film of his own, his presence at this year's SIFF is still worth mentioning.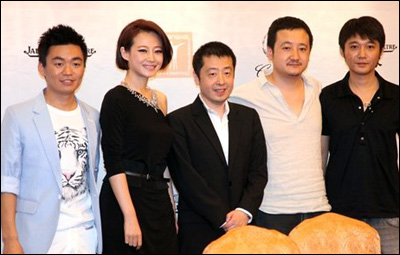 Jia Zhangke (center) promotes his produced film "Hello, Mr. Tree" at the 14th Shanghai International Film Festival.
First of all, he is here to promote Hello, Mr. Tree (树先生, 2011), a new Chinese film he helped to produce and helmed by a young filmmaker named Han Jie (trained at Beijing Normal University's Film & TV department). Han became a known name in the film community because of his bleak portrayal of contemporary Chinese youth in Walking on the Wide Side (赖小子, 2006), which has never been shown in China. Although Hello, Mr. Tree went on to win the Jury Grand Prix award and Han Jie also pocketed the Best Director prize, personally I don't highly recommend the film. It is flawed with uneven tone and pacing, exaggerated acting, and an awkward mix of the real and surreal.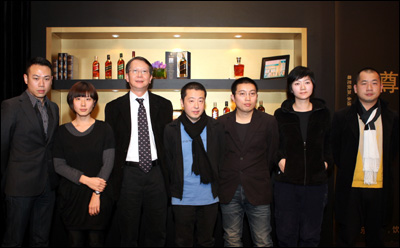 Jia Zhangke (center) also has a documentary, which he produced and partially directed, to promote at SIFF 2011.
Then, Jia is also at the festival to promote Yulu (语路, 2011), a short-documentary compilation that involves seven filmmakers (mostly young and unknown), including Jia himself. The compilation features eight Chinese-style success stories united under the theme of "perseverance" and "keep walking," a brand slogan for Johnnie Walker Whisky, which I guess sponsored the whole project. The upbeat documentary has its interesting and funny moments, but suffers again from uneven style and treatment of the interviewed subjects.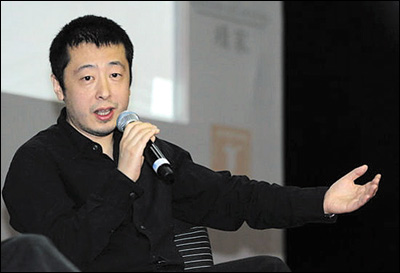 Jia Zhangke lashes out at state censorship at SIFF's film forum, calling it "cultural naivety."
Jia's most meaningful presence is probably felt at one of the film forums organized by the festival, at which he, in front of a large audience (many of them from Chinese media outlets), lashes out at the Chinese censorship apparatus. He claimed that he scrapped a film about a man's sex life after an official decided it might break anti-pornography laws. He also abandoned a spy film about the Communist party and Kuomintang due to censorship: "If I want to make the movie here, I have to portray all the communists as superheroes," Jia said, but "this would betray my original idea and make it difficult to develop the story." He added: "This kind of cultural over-cleanliness that bans the erotic, violent and terrifying is cultural naivety."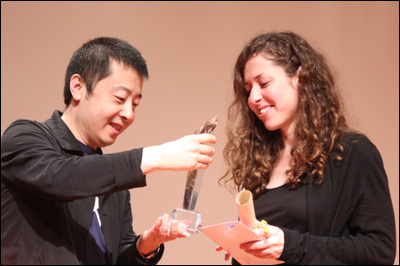 Jia Zhangke presents Best Director Award to Ms. Iris Helfer (UCLA) at SIFF's sidebar event "Sino-US Student Shorts Exhibition and Competition."
Jia is also a juror for a SIFF sidebar event called "Sino-US Student Shorts Exhibition and Competition" co-organized by Shanghai University's School of Film-TV and University of Hawaii's Academy for Creative Media. The five awards Jia helped to decide went to 1) Best Director: Iris Helfer (UCLA), My Education; 2) Best Short Feature: Julio O. Ramos (UCLA), A Doctor's Job; 3) Best Creative Idea: Jason Kaneshiro (U. of Hawaii), From a Dead Stop; 4) Best Short Documentary: Wang Yufei (Communication U. of China), Cordyceps Woman; 5) Special Xie Jin Award: Zhang Jiajun (Shanghai University), A Long Long Alley.
It is gratifying to see that Jia Zhangke, while always on the road to his next project, is actively involved in supporting emerging young and student filmmakers. The presence of a filmmaker of his caliber alone is a great support and encouragement for the young and aspiring.