If you are a regular browser of my blog, you would find that I haven't updated my postings since April Fool's Day. This is not because I am a "fool" or lazy blogger, but because I didn't have the access to the update section until today and after I came back to Los Angeles a few days ago. Yes, the notorious GFW (the Great Firewall, one of China's greatest inventions in modern times) prevented me from updating the site in China, although the site itself is still accessible there.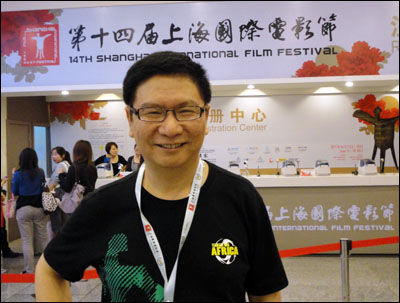 Photo taken at the Shanghai International Film Festival (June 11-19, 2011).
OK, no more complaints. The past week was quite hectic, as I was at the 14th Shanghai International Film Festival (siff.com) watching films, attending film forums, meeting old and new friends, and generally having a good time there. I attend my hometown's film festival almost every year and have been an open critic of the festival for some time. To me, there are two major problems with the festival: 1) Being a so-called A-category film festival, its major competition section (the Golden Goblet Award), which requires world premieres, continuously features mediocre titles that usually do not travel to any place after winning top awards at SIFF. This says a lot about the awkward place SIFF occupies in today's world film festival map. 2) Like everything else, politics plays a big role in the decision making process of film selections. To my knowledge, the festival has never had a professional programmer or curator, which means it cares more about political correctness and red-carpet showoffs than about films themselves.
Having said that, I have to confess that this year's programming is better than I expected. For one thing, it started to pay attention to retrospectives and classics. For instance, Fritz Lang's newly restored sci-fi classic Metropolis was screened at the festival, and the tickets were sold out even several days before the festival started . It also featured a section called "film noir classics," and films like Sunset Boulevard and Gilda were pleasantly included. Of course these titles are widely available in China (particularly in the pirated DVD market), but to be able to watch them on the big screen was still an rewarding and rare experience, especially for Chinese cinephiles.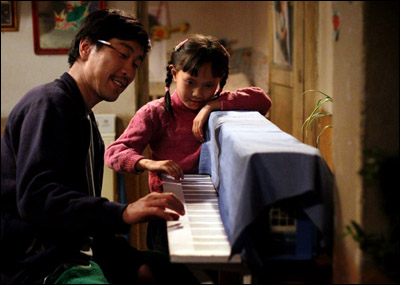 The Piano in a Factory (d. Zhang Meng, 2010)
What interested me most was the New Chinese Films section. This year there were quite a number of new Chinese titles premiered at the festival. Top on my "highly recommended" list is this small film called The Piano in a Factory (钢的琴,d. Zhang Meng, 2010). It is a successful mix of social satire, nostalgia, farce, and a sense of absurdity. To a certain extent, it reminds one of Wang Bing's extremely long documentary Tie Xi Qu: West of the Tracks (铁西区,2003), but the tempo of changing times and fate in this surprisingly exceptional film is dealt with in a very smart and entertaining way. I was quite amazed to see the film is actually directed by a young filmmaker (born in 1975), as it has this nostalgic feel for the 1950s, a period when the Soviets were still considered the "Big Socialist Brothers of China" and state-run factories and workers were the "backbones" of the Chinese society. The Piano in a Factory ended up being a big winner at the 14th Shanghai International Film Festival, winning Best Picture, Best Director and Best Actor and Actress in a leading role at the festival's China Movie Channel Media Awards ceremony.